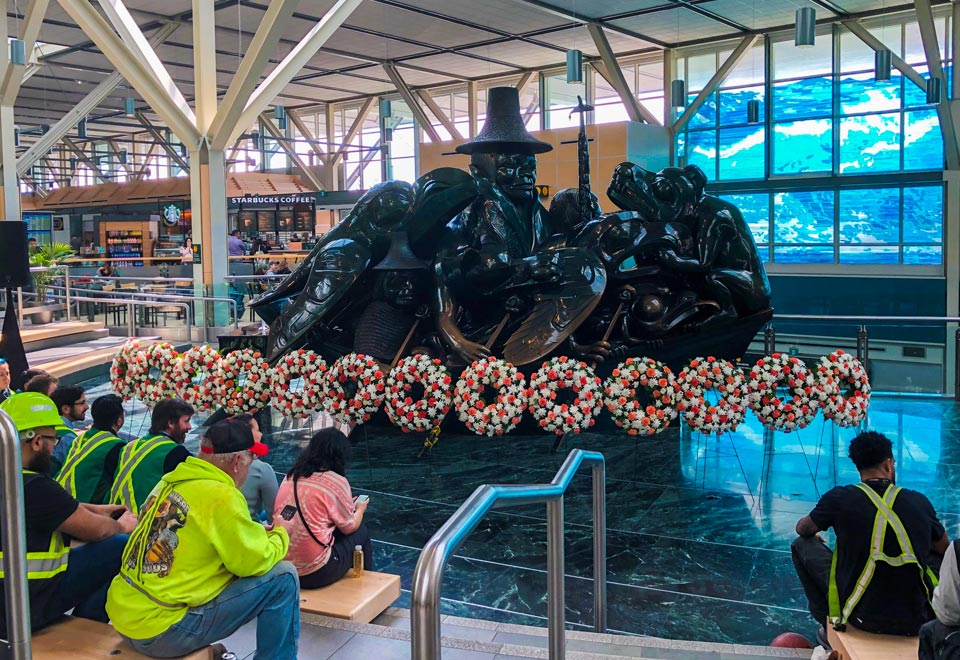 BCRCC Representatives Attend Various Day of Mourning Ceremonies in B.C.
BCRCC members and representatives attended Day of Mourning ceremonies at varies locations throughout the province. These public memorials provide an opportunity to honour coworkers who lost their lives to workplace injury or disease and to renew our commitment to establish healthy and safe jobsites.
In 2018 there were 131 work-related deaths in B.C.: More than two work-related death claims were accepted by Worksafe BC each week. Construction remains one of the most dangerous industries with 34 work-related deaths last year.
Here are photos from ceremonies at the Vancouver International Airport, the Workers' Memorial Stature in Prince George, and at the Jack Poole Plaza in Vancouver.
In Vancouver, Harry Baines, Minister of Labour, addressed those in attendance with regards to confirming the NDP government's commitment to make BC workplaces the safest in the country. Alec Dan provided the territory greeting from the Musqueam First Nation Band. Sadaf Abdul talked about how when she was just 14 years old when her father was fatally injured in 2010. The scaffolding he was working on started rolling, got caught on something on the floor, and tilted. Her father fell 40 feet, suffering a fatal head injury. Sadaf urged everyone to ask if the job they are going to do is safe, saying, "Don't hesitate to say no if you don't feel comfortable doing the job. Your life is so important, more important than the job that needs to get done. You are irreplaceable."